Fire up the grill and get ready to party like it's 1776! It's time to celebrate the Fourth of July – also known as Independence Day – one of the biggest holidays in the American calendar.
All over the USA, people will join friends and family to soak up the sunshine and enjoy the festivities – from picnics to parades, it's a day to embrace all things red, white and blue!
With fireworks and feasting, 4th July is all about freedom, fun and – most importantly – honoring this pivotal moment in American history.
So, as we come together to commemorate this special occasion, it's the perfect time to reflect on the history of cross stitch in America.
How did this simple form of needlecraft evolve into the contemporary craze we know and love today?
Let's take a trip back in time to discover the origins of our favorite hobby…
The History of Cross Stitch in America
Cross stitch is one of the oldest forms of embroidery, with examples dating back thousands of years to ancient civilizations of Egypt, China and Peru.
Traditionally, cross stitch was used to embellish clothing and household items. Later, stitched samplers became an important educational tool for young women to showcase their needlework skills.
The earliest known American sampler is thought to have been stitched in 1653 by Loara Standish, daughter of the Mayflower passenger Captain Myles Standish. Featuring a signed verse, the sampler demonstrates a variety of embroidery stitches and is now on display at Pilgrim Hall in Plymouth, Massachusetts.

The primitive samplers of these times appear dated in contrast with the more colorful and contemporary styles of today, although many stitchers now enjoy the nostalgia of working on antique reproduction designs.
Samplers continued to be stitched throughout the 18th and 19th centuries, with a classic narrow band style that typically depicted rows of patterns, floral motifs, letters and numbers. Over time, the samplers became more elaborate, wider in shape, and often featured verses from the Bible.
With increasing industrialization, the prevalence of samplers began to decline during the 1900s. For several decades, cross stitching fell out of fashion.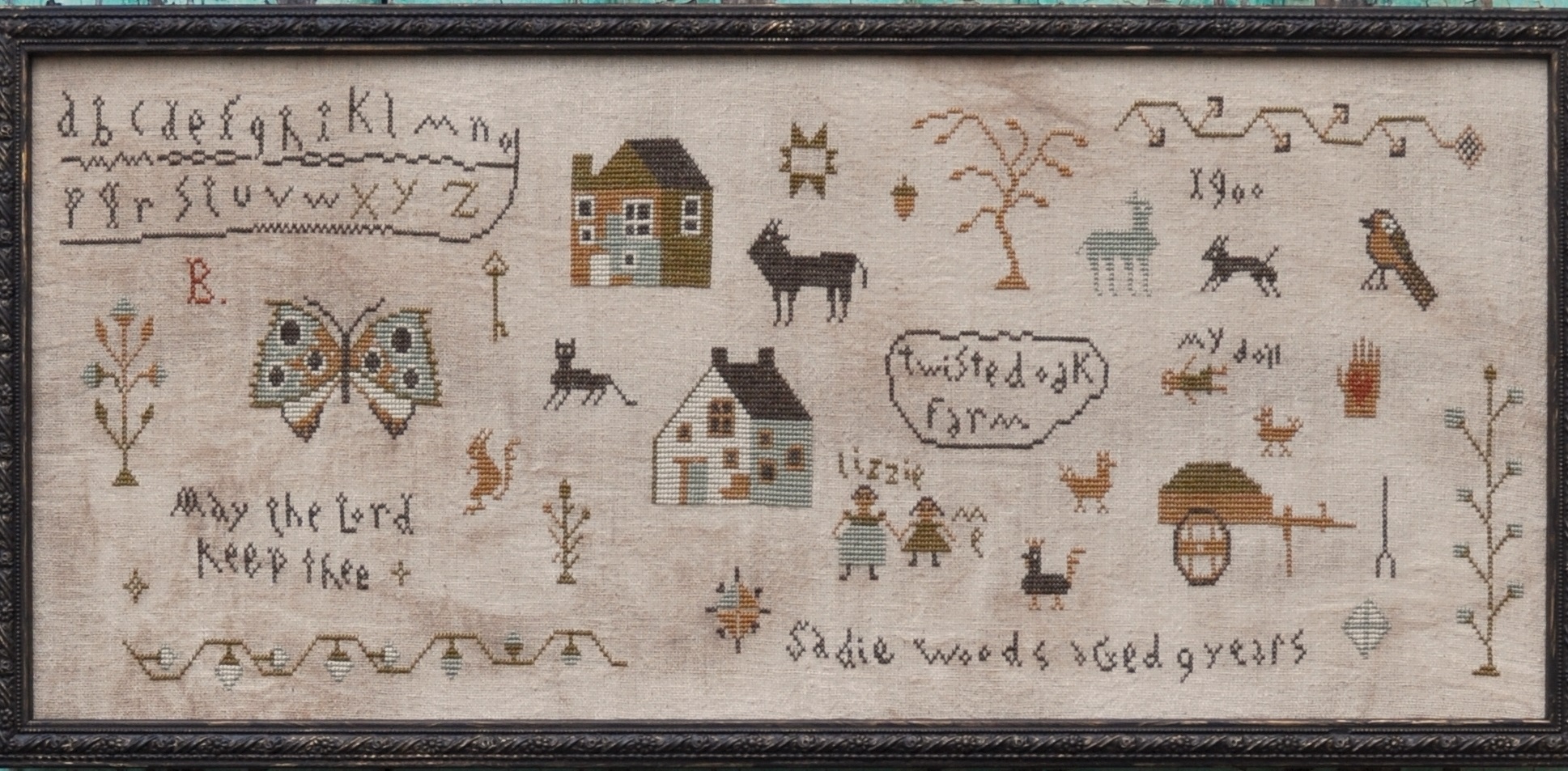 That is, until the 1960s, when stitching for pleasure began to surge in popularity as women had more free time for crafts and hobbies. Cross stitching had evolved from playing a functional role to becoming a leisure pursuit.
Notable figures during this period include Erica Wilson, often regarded as "America's First Lady of Stitchery", who became a household name by popularizing various types of embroidery. Ginnie Thompson, of South Carolina, is often credited as being instrumental in the modern revival of cross stitch in America in the 1970s, while Pat Carson and Gloria Steele became the first designers to publish a counted cross stitch book in the United States in 1975.
The stitching trend continued into the 80s and 90s, eventually flourishing into the modern phenomenon of contemporary cross stitch we know today.
Post-millennium, cross stitching is more popular than ever before – not least with the growing importance of mindfulness and the development of the subversive stitching movement.
Cross stitch is no longer confined to the dusty archives of old-fashioned samplers. These days, the stitching community is a diverse bunch of men and women of all ages. Over the centuries, an activity once considered to be a rather mundane chore has developed into a pastime that brings pure pleasure and satisfaction to so many around the world.
The recent cross stitch revolution has led to an explosion of new ideas that are inspiring the next generation to find joy through needle and thread.
Who knows where the cross stitch journey will lead to next?
Let's Get Stitching!
The history of cross stitch is certainly a rich tapestry.
After taking a trip back through the past, now it's time for you to get inspired and pick up your needle to celebrate Independence Day in stitches!
You'll find a wide range of July 4th themed cross stitch kits and charts to choose from online – or why not design your own?
Decorate your home for the big day with hand-stitched cushions and samplers, or put on a patriotic display with some cheerful bunting in red, white and blue. Baked goodies can be embellished with cake toppers and gift tags stitched with stars and stripes.
Get creative with some funky cross stitched jewelry to wear with pride, or make your own star-spangled banner for the parade. Simple flag motifs can be used for stitching hand-made cards, key rings, coasters and other small gifts for friends and family.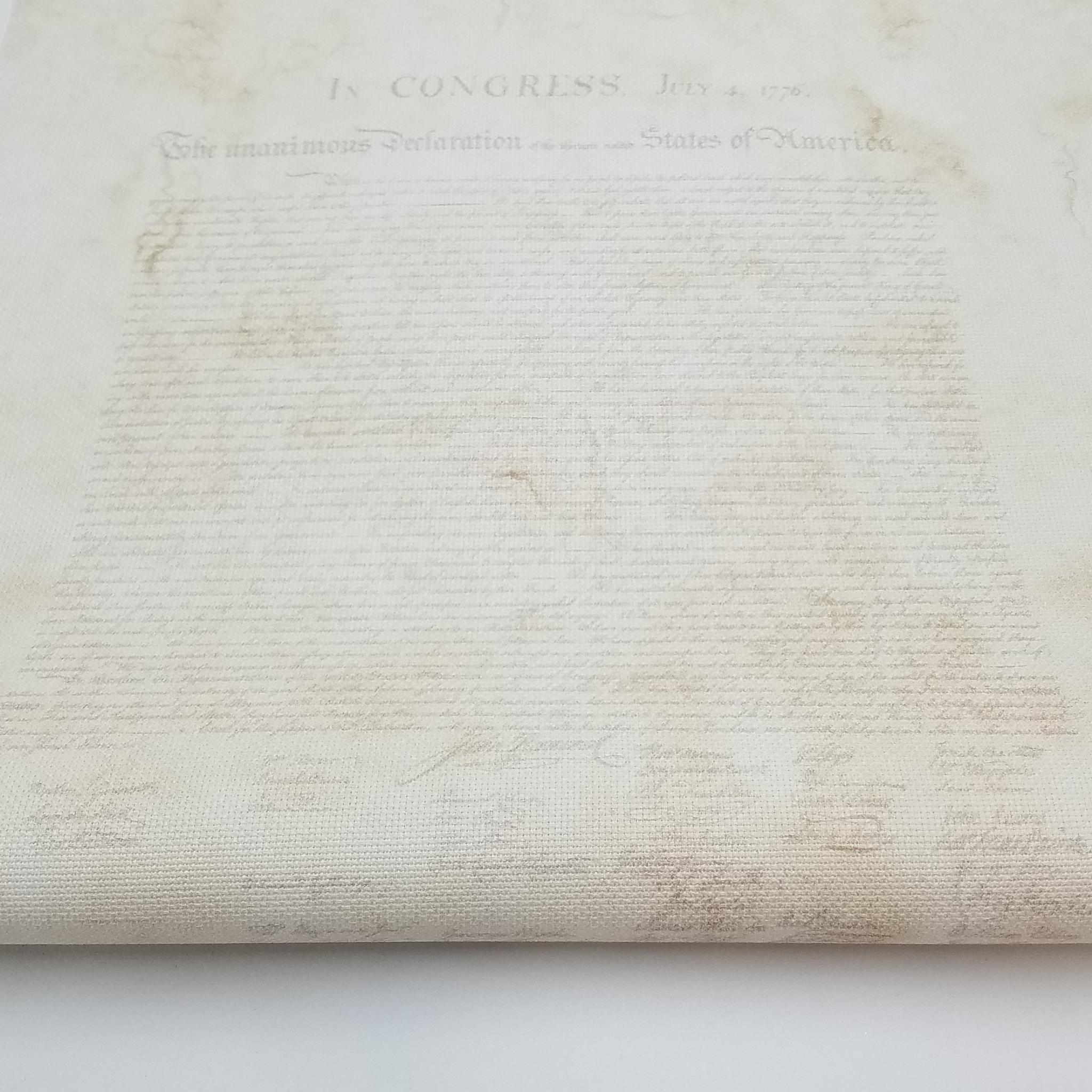 Elevate your Independence Day sampler by stitching on themed fabric. Check out the range of Americana-inspired patterns at DoveStitch and Fabric Flair, from parchments and scripts to stars and stripes – you'll find the perfect canvas for those Fourth of July designs. Keep an eye out for more fabrics due to be released soon.
With cross stitched decorations so beautiful, you'll want to keep them up all year round!
Bring on the hot dogs and sparklers – it's time to celebrate in style.
How will you be celebrating Independence Day this year?
Thumbnail image used: Emily Call Stitching "Sweet Liberty"