1. Tell us about Sweet Wing Studio – where are you based?
I happily hopped down the rabbit hole of cross stitch after discovering Flosstube in 2018. I began designing cross stitch patterns in 2019 and officially opened Sweet Wing Studio in March 2020. I am based in Ringgold, Georgia, a small suburban town in the United States. I operate Sweet Wing Studio in my spare time, as I also have a full time job in accounting. It keeps me very busy, but I love it. Having a creative outlet is a must for me! Being able to blend it into a small business is a huge blessing and a dream come true.
2. Who are your favorite top 3 cross stitch designers?
Little House Needleworks - Their designs are easy and simple, yet beautiful and meaningful. Annie Beez Folk Art - She has such a knack for creating such sweet and pretty designs; they always make me smile. October House Fiber Arts - Her designs are unique, charming, and just a pleasure to stitch and display. These are only 3 of many favorites of mine! There is so much talent in our industry, it's really amazing.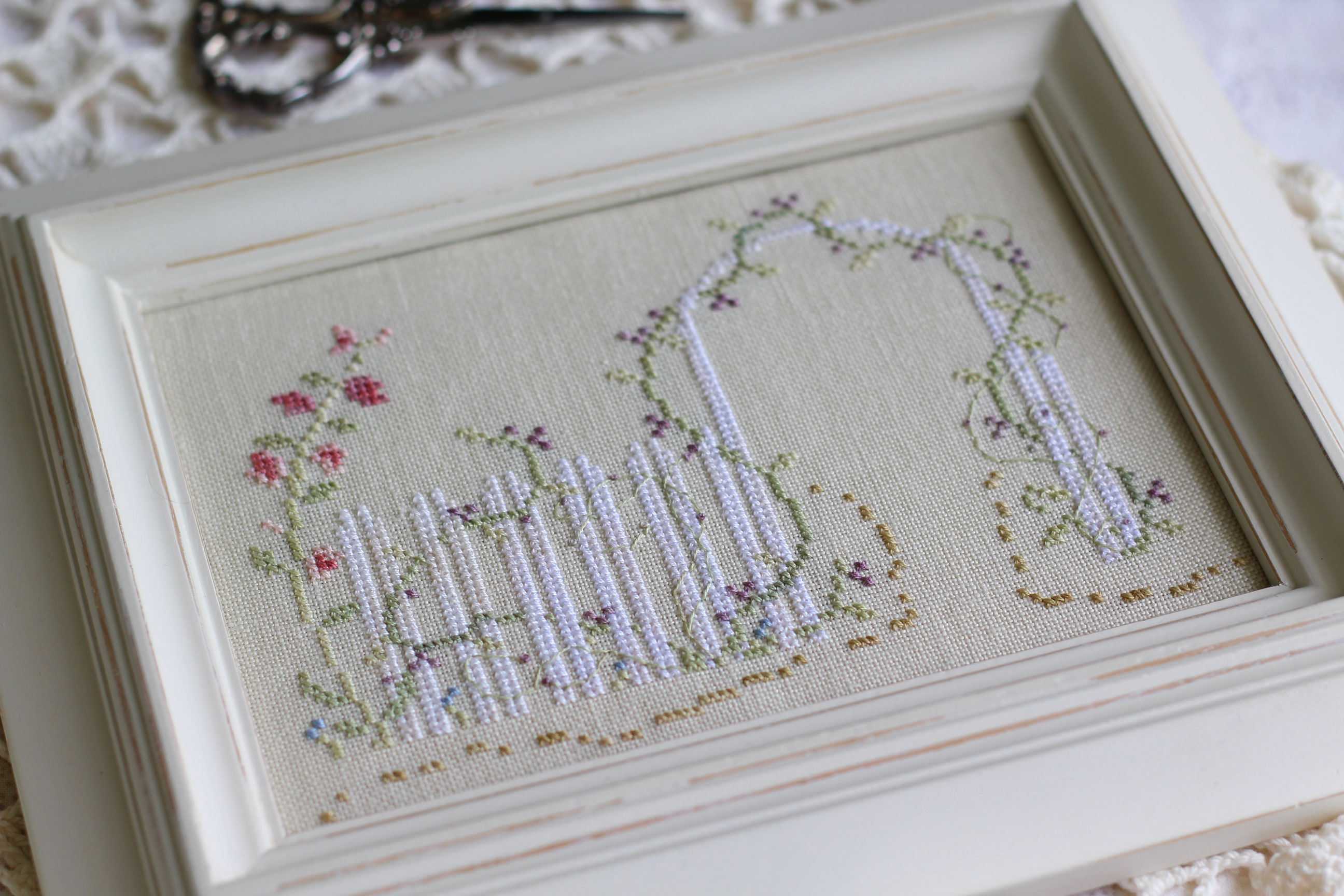 3. How did you get into cross stitch?
My wonderful mother taught me how to cross stitch when I was about 10 years old. I made a simple and funny watermelon refrigerator magnet that I still have! I even made my classmates cross-stitched bookmarks for Christmas one year. I always enjoyed stitching, but I did venture on to other crafts (such as papercrafting, crochet, and painting) as I got older. I sort of forgot about cross stitching until a few years ago when the popularity seemed to be skyrocketing. Now I wish I hadn't taken such a long break from it!
4. How would you describe your style?
Cheerful, sincere, and unique. My goal at Sweet Wing Studio is to create designs which bring happiness. My faith is deeply important to me, so many of my designs incorporate Bible verses and hymn lyrics. I like to give my stitchers something that will mean something to them. After all, if you're going to spend hours making something, it should have personal significance and should be something you're proud to display or even pass down to future generations. I'm still fairly new to designing, so I'm still developing my style.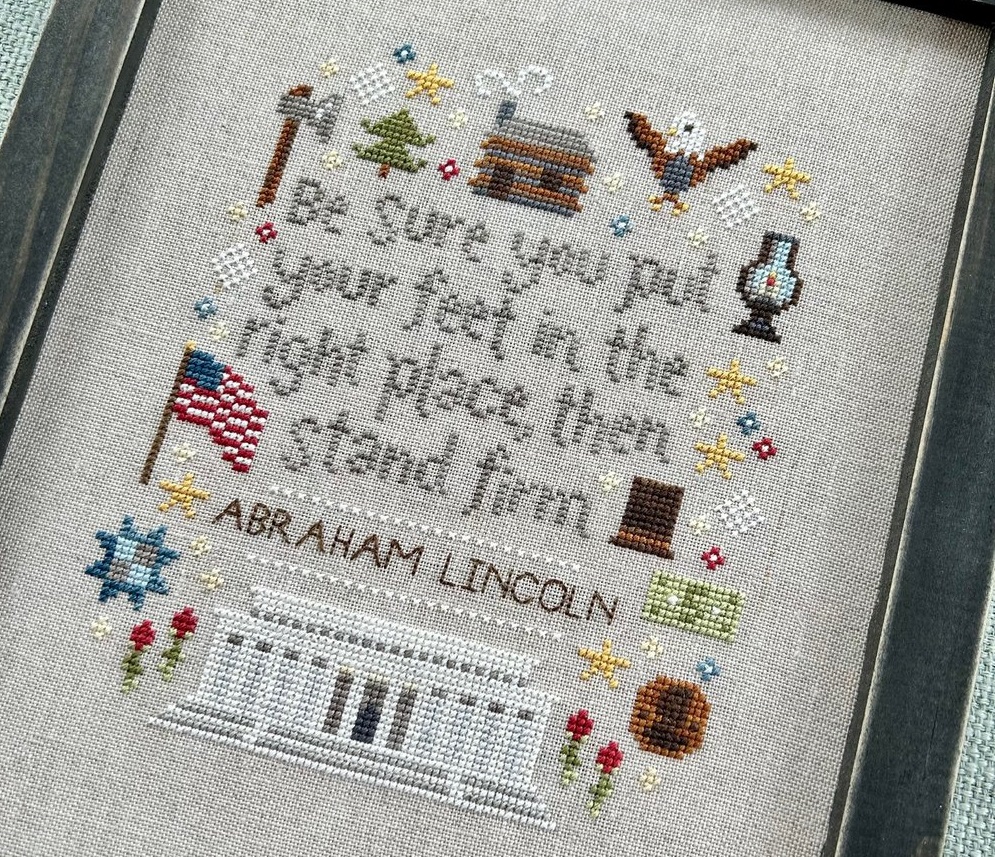 5. What exciting plans do you have in store for 2023?
I have two series coming out in 2023! The first one is a four-part seasonal series featuring tiny motifs that match the different times of year. The second series includes 12 designs, is exclusive to my Etsy shop, and is titled the "Second Sunday Scripture Stitch Series" (I love the letter S, can you tell?!). A new design is released on every second Sunday of each month, they all feature a Bible verse, and they will all be the same size (approximately 4" x 6") so they can be displayed or changed out as desired. Also, I'm very much looking forward to meeting stitchy friends at conventions and retreats later this year!
6. Where does your inspiration come from, any particular influences?
As a Christian, my inspiration comes from God and all the wonders He has created. I love nature and playing with various color palettes. And these days, since there are countless artists who share their work on social media, there is no shortage of beautiful pieces from which to gain motivation and spark the imagination.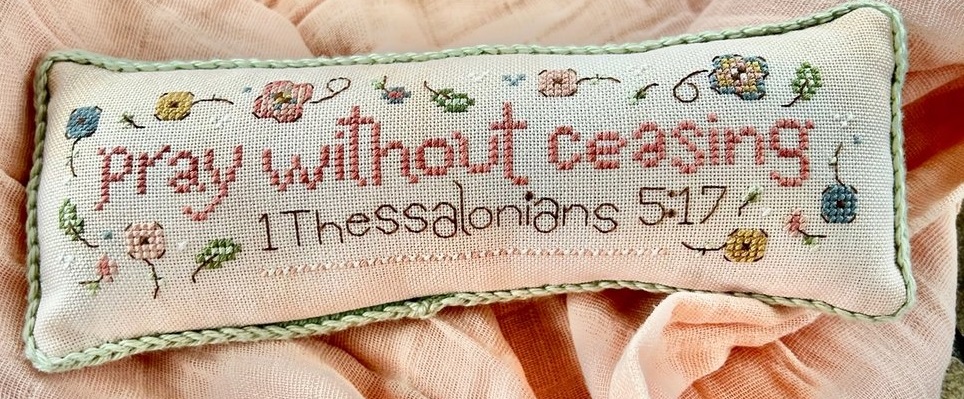 7. What is your favorite design so far?
Plant the Seed was one of my earliest designs, and one that I have always loved. The quote, "The day you plant the seed is not the day you eat the fruit" is a great reminder of the importance of patience and nurturing. The gardening theme and colors appeal to me. It may always be my favorite, because I remember feeling like a "real designer" for the first time after I completed the stitching of the model.
8. What advice would you give to other aspiring designers out there?
Following my previous answer about my favorite design, I must say that patience is key, as well as perseverance and practice. The day you start designing (planting the seed) is not the day you see success (eating the fruit). It takes a while for the fruit to grow and ripen! Don't lose hope or give up, and don't compare your work to others. Design pieces that you would want to stitch for yourself, your home, and for friends and family; because, chances are, others will want to stitch things like that, too. There is room for all designers and an audience for all types of designs, so just go for it! Have fun!
9. As a cross stitcher, what is your favorite type of fabric to stitch on?
I adore evenweave fabrics. They are usually extra soft and the uniformity of the weave is easy on the eyes and the brain! I do like linen, too, for the beautiful shades and slight imperfections which showcase its natural characteristics.
10. Why do you think cross stitch is so popular these days?
I've seen several people refer to their stitching as their therapy, their relaxation time. In the hustle, bustle and stress of our daily lives, taking some time to sit down and stitch something nice provides us all with some much-needed calm and contentment.