Between Halloween and Christmas, this time of year tends to get busy when thinking about what cross stitch projects to work on next. If you want to break your seasonal routine, this year try doing something different by incorporating cross stitch into your Thanksgiving celebrations. From decorations to use on the day to gifts and family traditions, we've come up with the best ways to work some cross stitch magic into this important celebration.
What is Thanksgiving?
Aside from knowing it's something to do with a turkey, if you don't come from the United States or Canada, you mightn't know what this national holiday is all about. Celebrated on the fourth Thursday in November each year, Thanksgiving is (as the name suggests) a time to give thanks and show appreciation for the blessings in your life.
It all stems from a harvest feast celebrated in 1621 when the English colonists (known as the Pilgrims) from Plymouth, England, came together with the native American Wampanoag people, who helped them get through the previous winter in a time of scarcity, for a celebratory meal. Giving thanks for the blessings of the harvest is a tradition that the pilgrims brought with them from their home country, and the tradition has continued to this day.
Originally a religious observation, the holiday is a secular celebration, an occasion for friends and family to get together and enjoy a great meal, alongside more modern traditions such as watching the game. So how can you incorporate some cross stitch into your Thanksgiving traditions?
Thanksgiving Centerpiece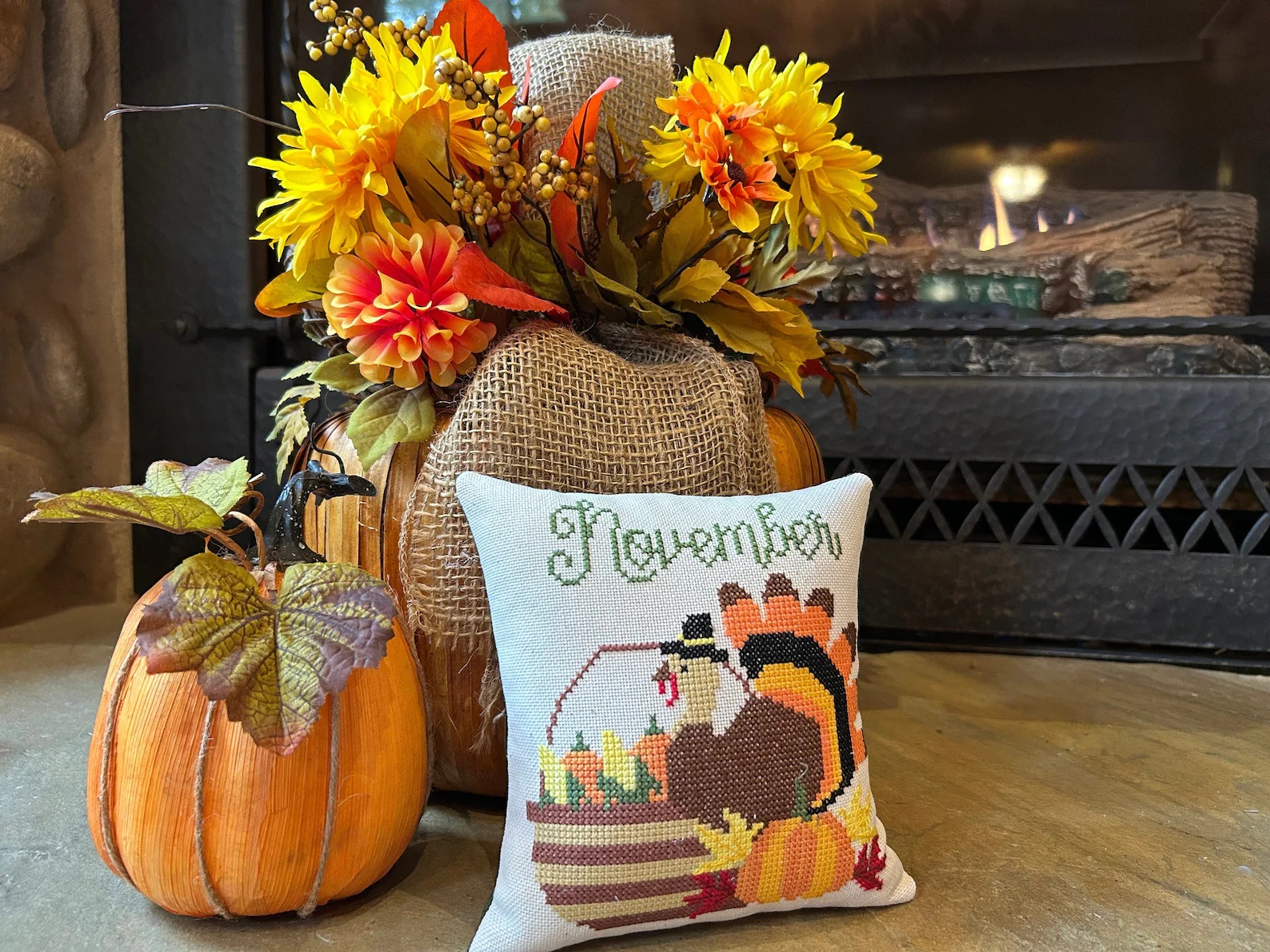 Whether your thanksgiving meal is a huge celebration with an abundance of cousins, aunties, uncles and grandparents, or perhaps a more muted affair with a few close friends, a celebration of any size can use a centerpiece to draw the table together. Large arrangements of decorations can get in the way of your view, so instead, how about a festive cross stitch centerpiece that can lie flat on the table and act as a table runner? The design could feature seasonal elements like pumpkins, falling leaves in autumnal colors and a scattering of candy corn. Or perhaps you could draw on the rich tapestry of family life to create a design that's meaningful and personal.
Thanksgiving Gifts
Do you like to give gifts when people come over for thanksgiving? The greatest gift that can be offered is your presence, but if you're thinking of presents, a little cross stitch memento would be heartily appreciated. Personalized patches to decorate coats and bags, luggage tags, brooches, cushion covers, placemats, coasters… there are endless ideas for small gifts that would let your loved ones now how much you appreciate being with them at Thanksgiving.
Cornucopia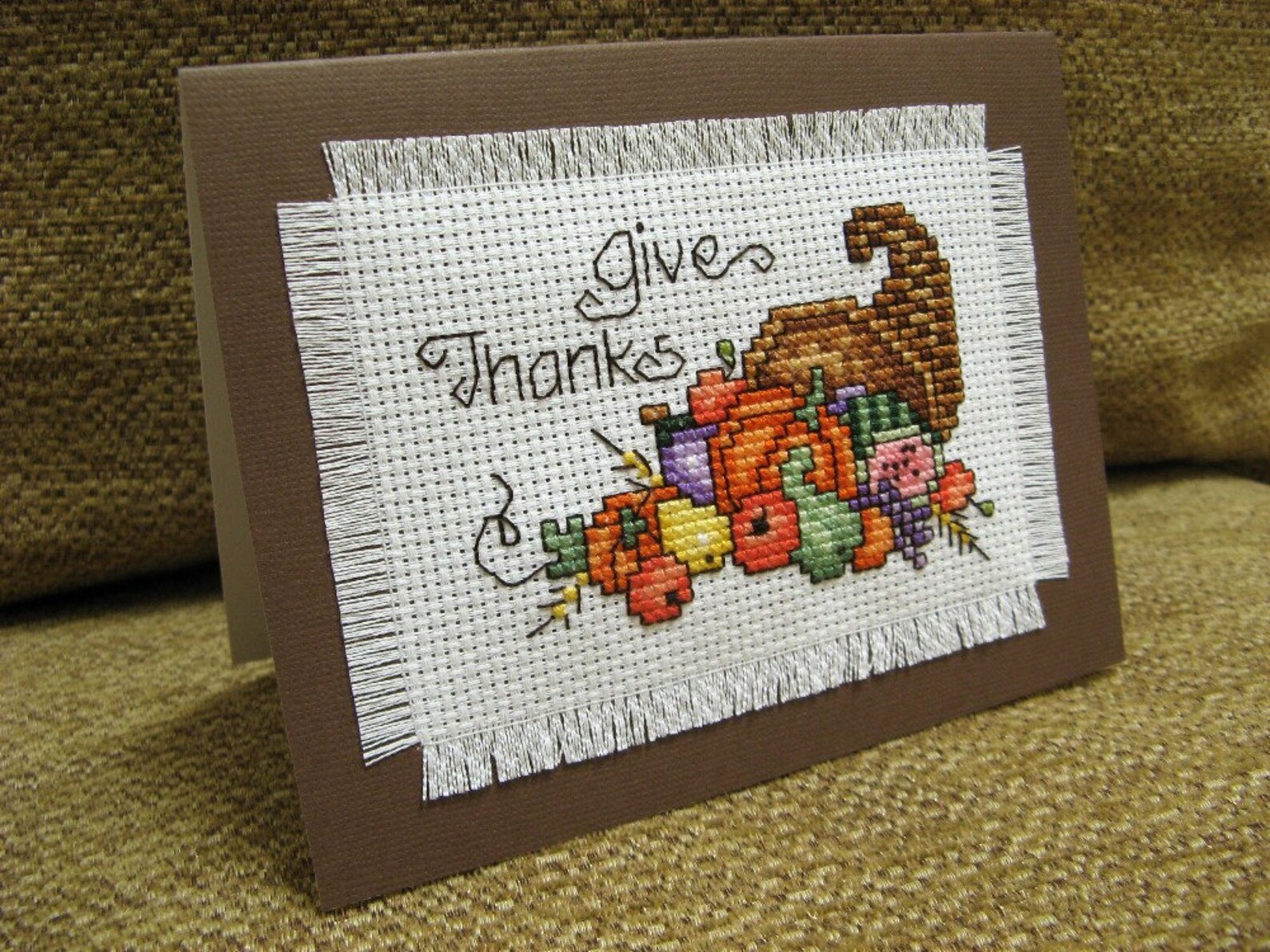 When thinking about Thanksgiving and the theme of plenty, what better motif than the cornucopia, a beautiful horn shaped basket brimming over with sumptuous produce. Get your guests in the thanksgiving mood by stitching a cornucopia design to hang on the door as a welcome to the party, or have it framed along with a poignant motto or a quote from the Bible.
Turkey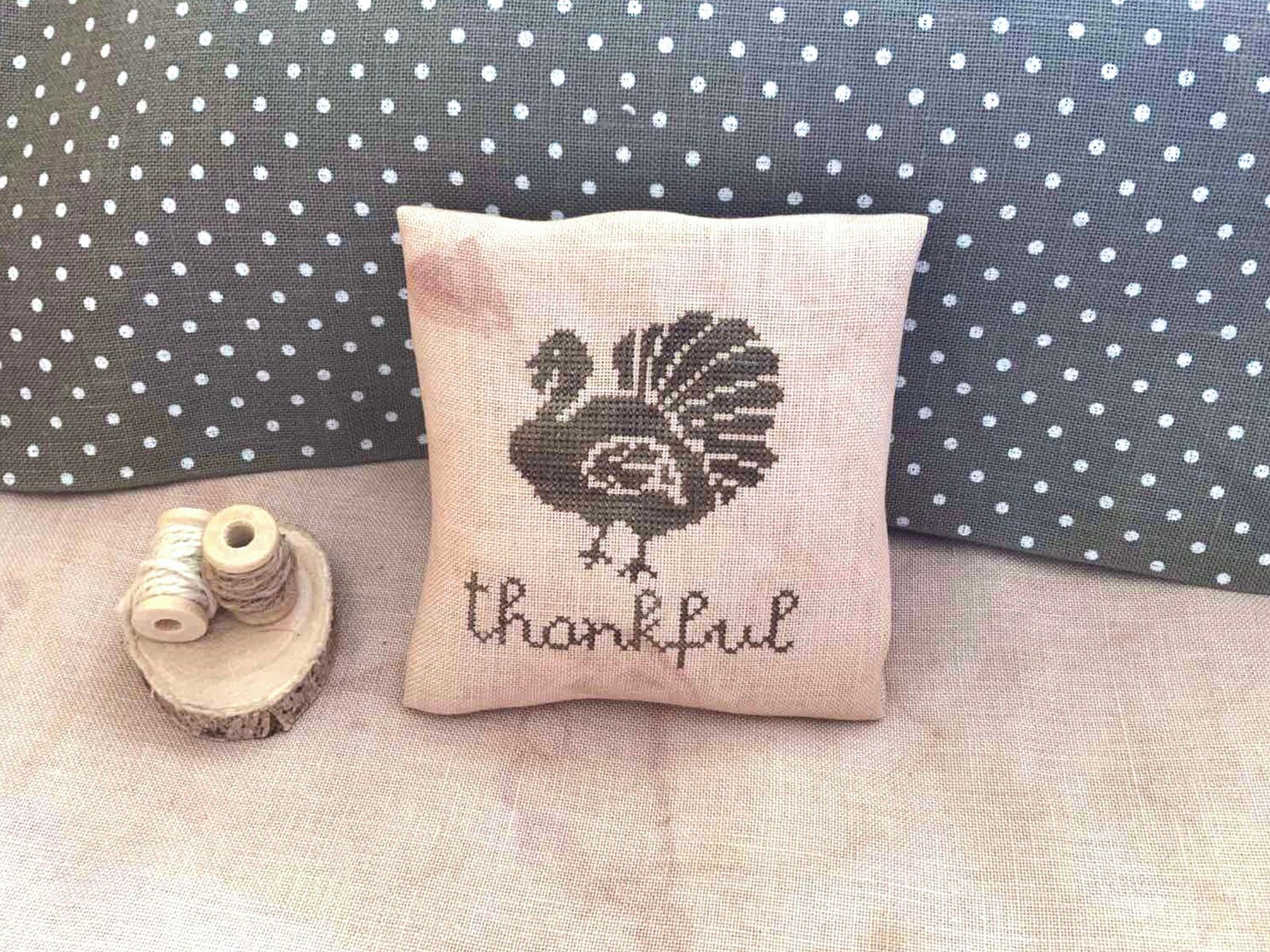 The turkey is, of course, the most well-known symbol of Thanksgiving, and there are ample ways to show this off in cross stitch. From realistic portrayals to cute cartoons with catchy slogans, there's no end to inspiration for using a turkey in your stitches. Frame your design in an embroidery hoop to be used as a decoration on the day, or use smaller designs to decorate cards when wishing your friends a Happy Thanksgiving. If you are pressed for time, just make one cross stitch and send it as a photograph to friends and family, rather than a handmade item for each recipient.
Family Traditions
Making Thanksgiving personal to yourself and those you celebrate it with is a great tradition to carry from year to year. How about creating something which can be added to each time the holiday comes around, such as a Baltimore album quilt where each year you can decorate a square and add the initials of the names of those present at the feast. The same idea could be implemented on a table runner, bookmark or wall hanging. As well as detailing family initials, more experienced stitchers could include a mini avatar for each member of the family, making a sweet reminder of the gatherings you had together which will be cherished in years to come, remembering who gathered around the table from each generation.
Gracious Giving
At a time when gratitude is on our minds, thanksgiving is the perfect time to think about others. If there are a number of keen cross stitchers in your family, how about using the Thanksgiving celebration as an opportunity to get together and create something wonderful? Perhaps you could spend some time stitching little aperture cards, gift tags, and keyrings to donate to a local Christmas fayre? Or perhaps you want to club together on a larger project which could be auctioned off for charity? Doing something you love, with people you love, while practicing gratitude for the blessings in our life, is surely the most fitting way to spend the day at Thanksgiving.