Over the last decade, cross stitching has evolved into a truly modern phenomenon.
A fresh wave of talent has rocked the stitching world with subversive quotes, bold typography and kitsch retro-chic.
Cross stitch has shaken off its old-fashioned reputation and emerged as a popular craft for all ages – particularly during the 2020 lockdown, when this simple form of embroidery brought solace and satisfaction during difficult times.
Now updated for the modern crafter, cross stitch is more than just a hobby. Its revival has led to a cascade of contemporary designs that have transformed the industry.
With surging popularity, this revolution has made one thing clear: cross stitch is officially cool. So, as the market continues to evolve, let's take a look at the latest cross stitch trends for 2023.
1. Subversive Stitching
From witty wordplay to sassy samplers, the subversive stitching trend shows no sign of abating. What's often striking about these designs is the contrast of twee floral motifs alongside starkly modern text. As a result, it gives a contemporary twist to what is considered to be a traditional craft.
Back in the mid-2000s, Julie Jackson was one of the first pioneers of the subversive stitching trend. Since then, the popularity of these charts has skyrocketed.
With an ever-expanding range to choose from, these edgier designs appeal to a new generation of stitchers who are looking for something a little different – whether it's a tongue-in-cheek phrase or something more x-rated.
Designers have cleverly adapted a traditionally quaint hobby and propelled it into the modern day. It's a movement that has positively reframed cross stitch as an art form, and looks set to continue throughout 2023 and beyond.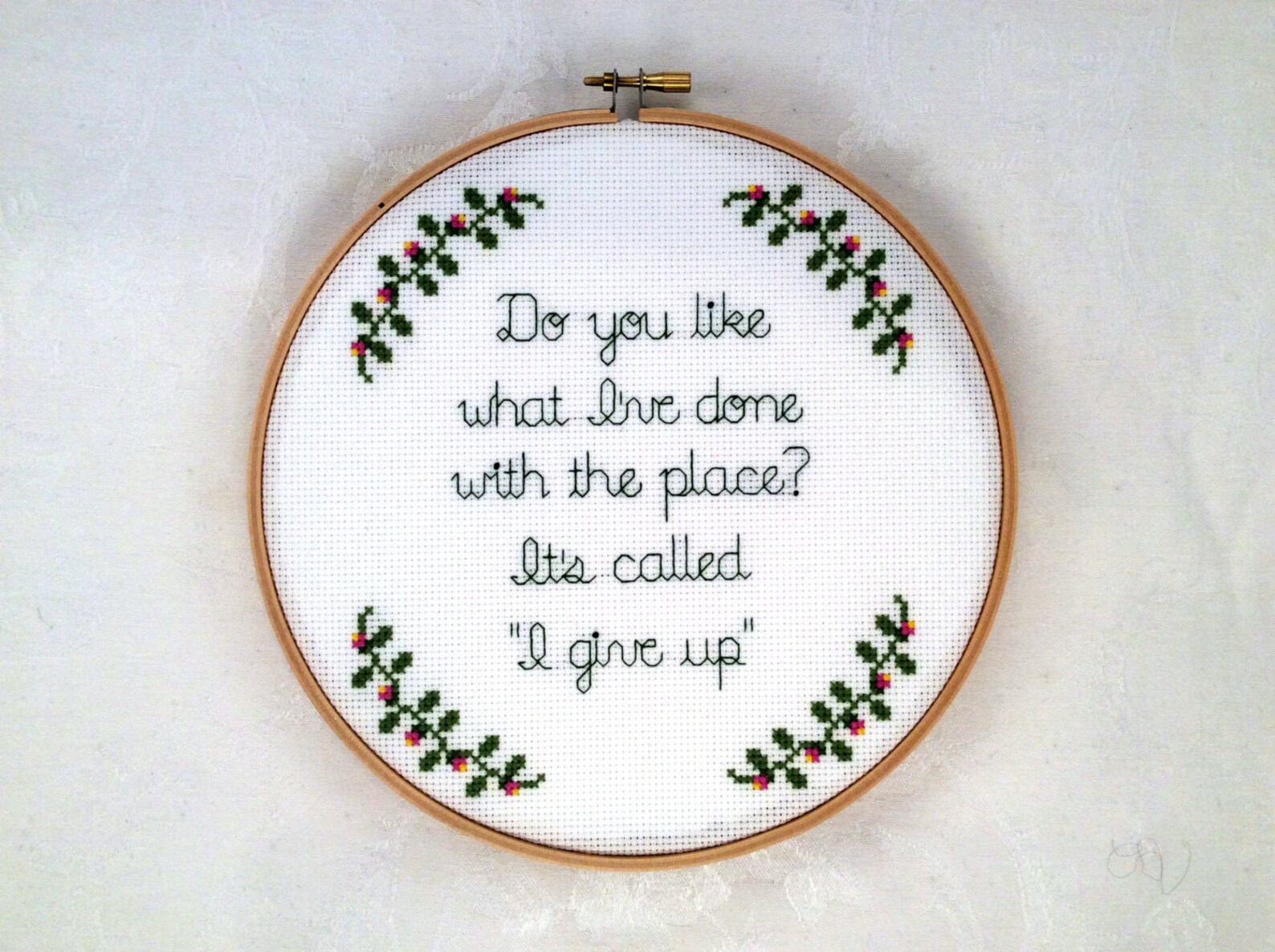 2. SALs

Have you ever joined a SAL? These online group stitching projects (aka stitch-a-longs) have been on the scene for a while, but really boomed during lockdown as people felt isolated and craved a sense of community.
The basic concept of a SAL is that everyone cross stitches the same design over a set period of time (typically several weeks or months). Usually, the chart is slowly revealed in stages, which gives both a sense of anticipation and an element of surprise over the appearance of the finished piece.
Joining a SAL is a great way to feel connected to other cross stitchers, particularly during the last couple of years when socializing has been limited. Being part of a group makes it easier to seek help and share pictures of your progress, as well as motivate each other to keep going!
3. Cross Stitch Temperature Charts
Stitched over the course of one year, a temperature chart is a visual representation of the weather in a specific place. With small daily updates, the project gradually comes together to create a beautifully unique work of art – with no two pieces ever being exactly the same!
An increasing cultural focus on climate change has seen these temperature-tracking charts soar in popularity.
The simple concept of portraying daily temperature in stitches has sparked the imagination of designers, and there is now a wide variety of styles to choose from.
Modern designs have progressed from depicting temperature as basic color blocks to more aesthetically-pleasing mandalas, leafy trees, birds and bookshelves.
With only a few stitches required per day, these charts are easy enough for beginners to complete. The color of each stitch is usually determined by the highest (and sometimes the lowest) temperature recorded in a specific location that day.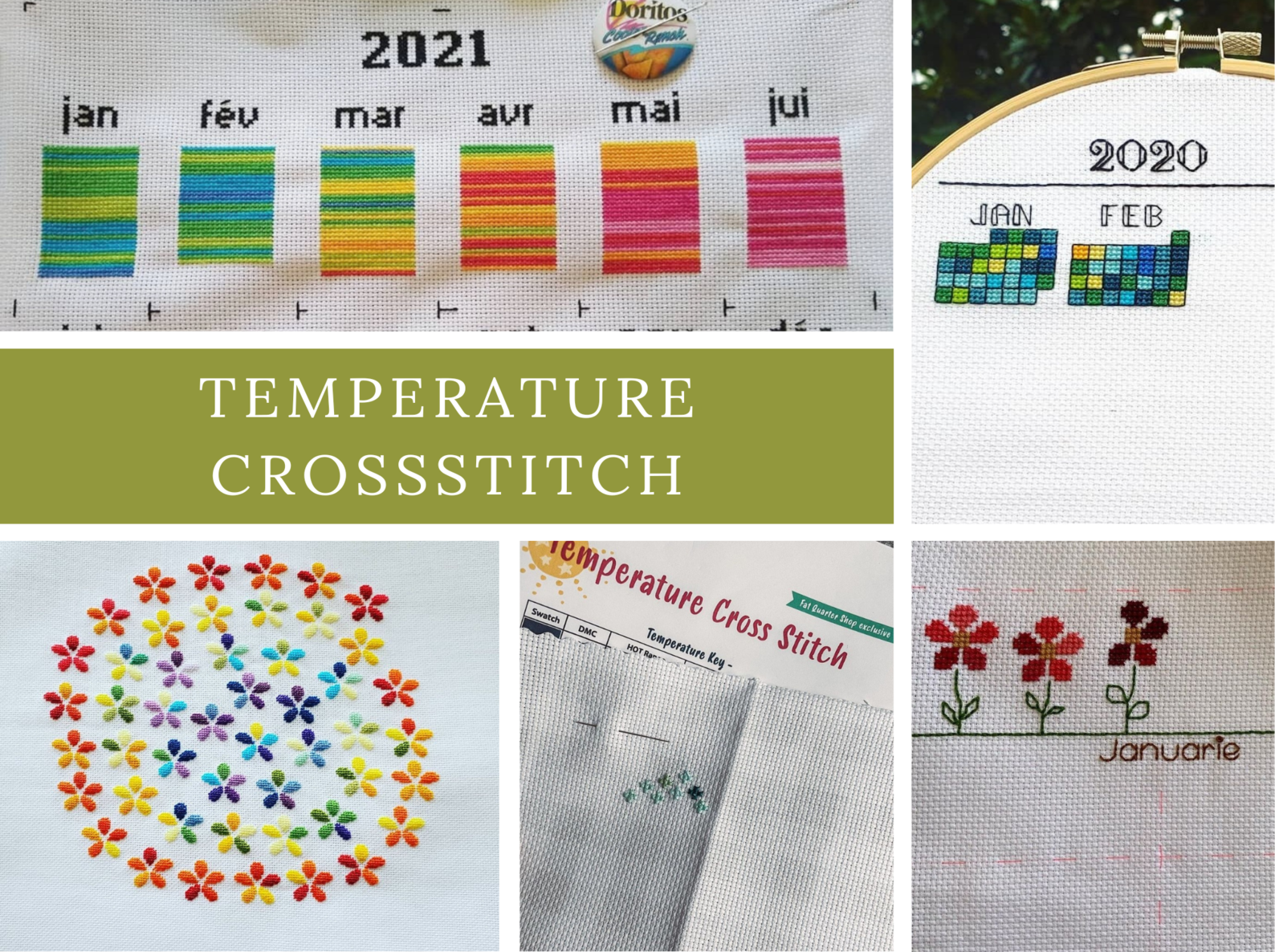 4. Patterned Fabric
There's more to life than 14 count white aida! These days, more and more cross stitchers are diving into the world of patterned fabric.
From bold colors to stylish swirls and snowflakes, there's something for everyone. Choosing the right fabric can elevate a simple design into something extraordinary.
For a modern twist, stitch on colored aida to make your design really pop. Bright reds and greens work well at Christmas, while solid black is ideal for modern chalkboard-style samplers.
Short on time? Use patterned fabric to create depth and interest without stitching the full background – a great shortcut for large areas of sky!
If you've never tried cross stitching on patterned fabric, why not step outside your comfort zone and give it a go? You'll find an amazing range of beautiful and unique patterned fabrics at dovestitch.com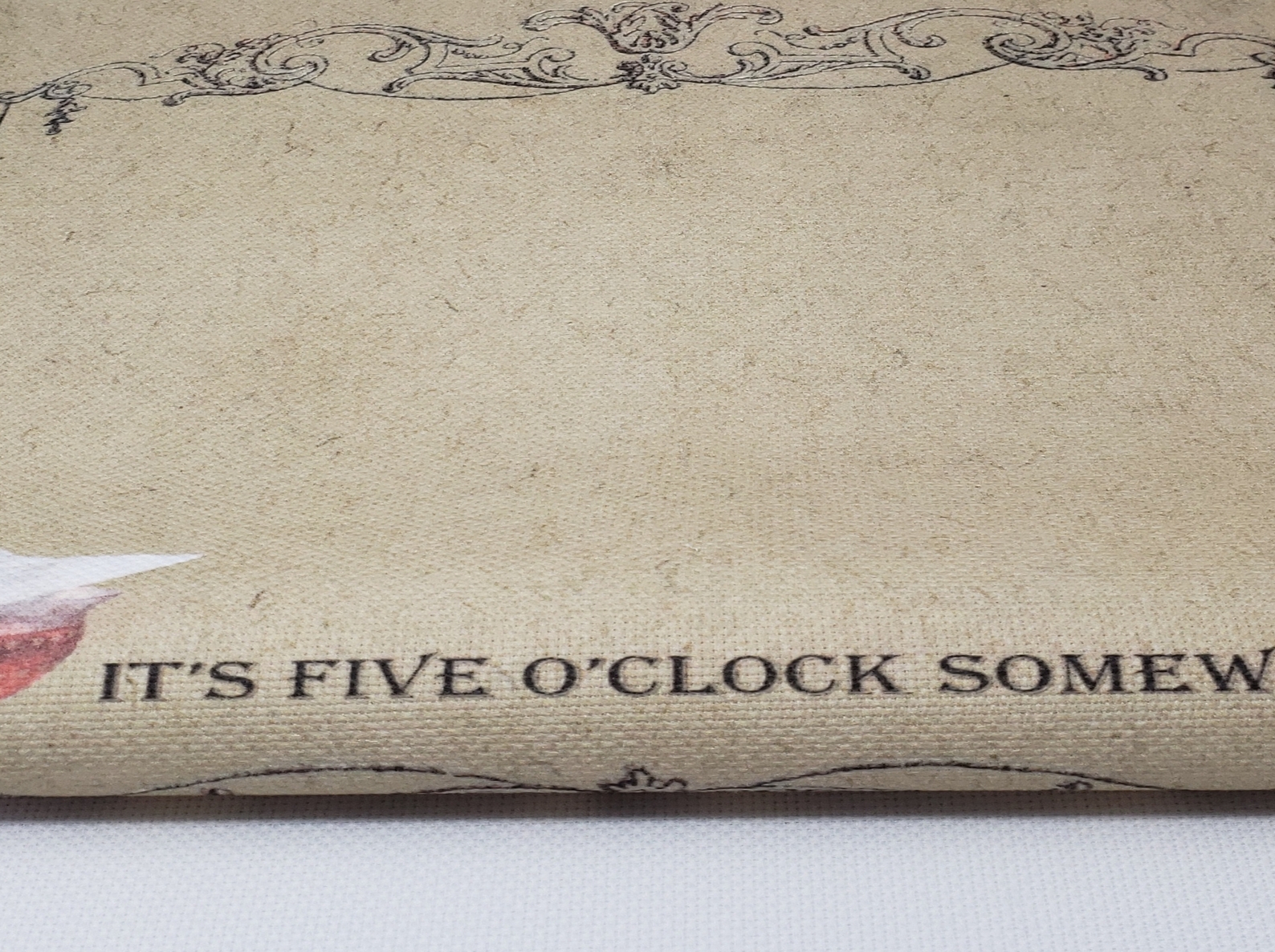 5. Stitch Portraits
Wouldn't you just love to see a mini stitched version of yourself? These super-cute personalized portraits are beautifully unique and so much fun to create.
Pattern libraries make it easy to tailor each character with all their individual characteristics – from body shape to skin tone, hair type and fashion style.
Whatever your ethnicity or identity, the endless range of possibilities makes this trend truly inclusive. With so much scope for creativity, it's easy to see why these mini portraits have become one of the most popular modern trends in cross stitch.
Most striking is the artistic use of thread to create realistic-looking hair – from loose, flowing locks to cute braids or tight curls.
Stitchers love building up the individual characters to depict couples, pets and families in their signature style. The simplified, cartoon-effect characteristics make it easy – even for beginners – to achieve stunning results.
So, that wraps up the latest trends in cross stitch for 2023 – which ones will you be trying out?