Seasonal cross stitches are great projects because you can start them in plenty of time and use them year after year (which is also great for those of us that can't quite finish a project on time… at least it will come in handy the following year!) Have a look at our top ideas for how to make some frighteningly good cross stitches in time for Halloween.
Trick or Treat Door Sign
If you welcome visitors to your door on All Hallows' Eve, what better way to show hospitality than with a hand stitched sign? A simple 'Trick or Treat' with appropriate logos such as a witch's hat, bubbling cauldron and menacing spider would make a nice decoration, or you could direct visitors with a skeleton pointing where to go with the words 'Fright this way…'. Equally, if you'd rather not be bothered by visitors threatening to play tricks on you, a stitched 'No trick or treat here, thank you!' hung on the gate will hopefully keep the little monsters away.
For a Door Sign check out this beautiful chart by Romy's Creations using our fabric Halloween Greetings designed especially for this project.
Cross Stitch Jack O'Lantern
One of the most well-known symbols of Halloween is the Jack o Lantern, so why not think outside the box when it comes to decorating a pumpkin? You can buy plastic decorations and customize them by carefully drilling holes in a pattern which could then be stitched into – but you might need a curved needle if there's no opening at the top. Another popular option is to buy the soft, plushie pumpkins (or buy a kit to make one!) and customize it with your own cross stitch design. Some people level up their Jack O Lantern game by drilling holes into a full sized pumpkin and threading a cross stitch pattern with thick wool or black string, which would make an effective decoration for your doorstop – just make sure all flammable threads are well out the way if you add a candle to it! Below is Tiny Modenist's masterpiece for Halloween 2023 SAL for which she used our Charcoal Dyed Effect fabric.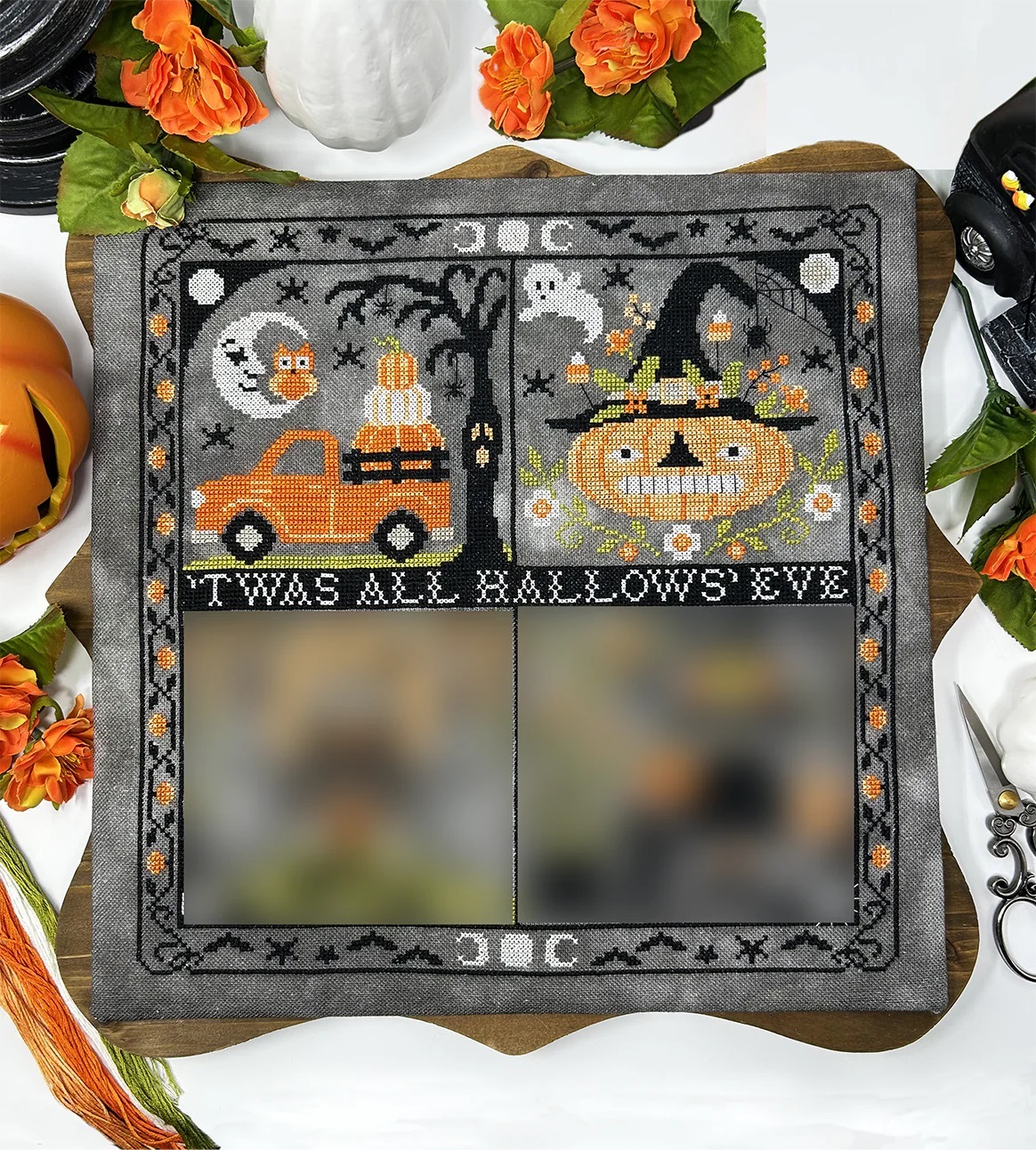 Treat Bags
Customized treat bags are all the rage for little ones to gather their goodies, and what better way to make it unique than with a cross stitch? You could spell out the child's name in spooky lettering or buy a 'matchbox' kit with a simple motif which could then be glued or stitched onto a robust paper bag. Use the cross stitch year after year by tacking it to a cloth tote bag or making one out of felt in bright orange, ghoulish white or cauldron black.
The New Gobletons by talented Aury TM would make wonderful treat bag. We have designed a special fabric called Gobble Pumpkin.
Glow in the Dark Thread
If you're not sure what to stitch, focus on the thread rather than the item itself. Spruce up an outfit with some glow in the dark thread, such as by adding a funny slogan to a store-bought witch's hat, or going minimal with a fancy dress outfit by adding some motif outlines or slogans to a plain black tee-shirt. Our favourite ideas are 'Frequent Flyer' (underlined with a witch's broom), 'Mummy's Little Monster' on a newborn Babygro, or 'Time for a coffin break' (and a cute cappuccino cup overflowing with Halloween characters).
Party Invitations
If you're hosting a Halloween party, incorporating a cross stitch theme into your invites is a great way to show off your creative side. Hand stitching an invitation for every guest would probably be a bit labour intensive, so instead put effort into creating one great design, then snap a picture to email or print out. If you're handy with photoshop or a program such as Canva, it's easy to create snazzy invites that show off your cross-stitch innovation.
Check out this interesting chart by Little Stitch Girl on our Spooky Hollow Light fabric.
Wall Hanging
Don't waste precious stitching time by spending ages deciding what to make – a lovely wall hanging can be found for any ability and with any sort of design, so choose something you're going to love and aim for a well-stitched piece. Cute little designs in circular frames make for great decorations to hang in a window, or you could go all out with a large tapestry that will be cherished in your home for generations to come. Whether you prefer designs that are cute, kitsch, morbid, funny, or aesthetic, there will be a guide or kit out there to suit what you want to achieve.
What would look better on your wall than this creative tree inspired by Edgar Alan Poe's famous poem. Tiny Modernist used our Stormy Gray for this unique project and we are so grateful to her for that.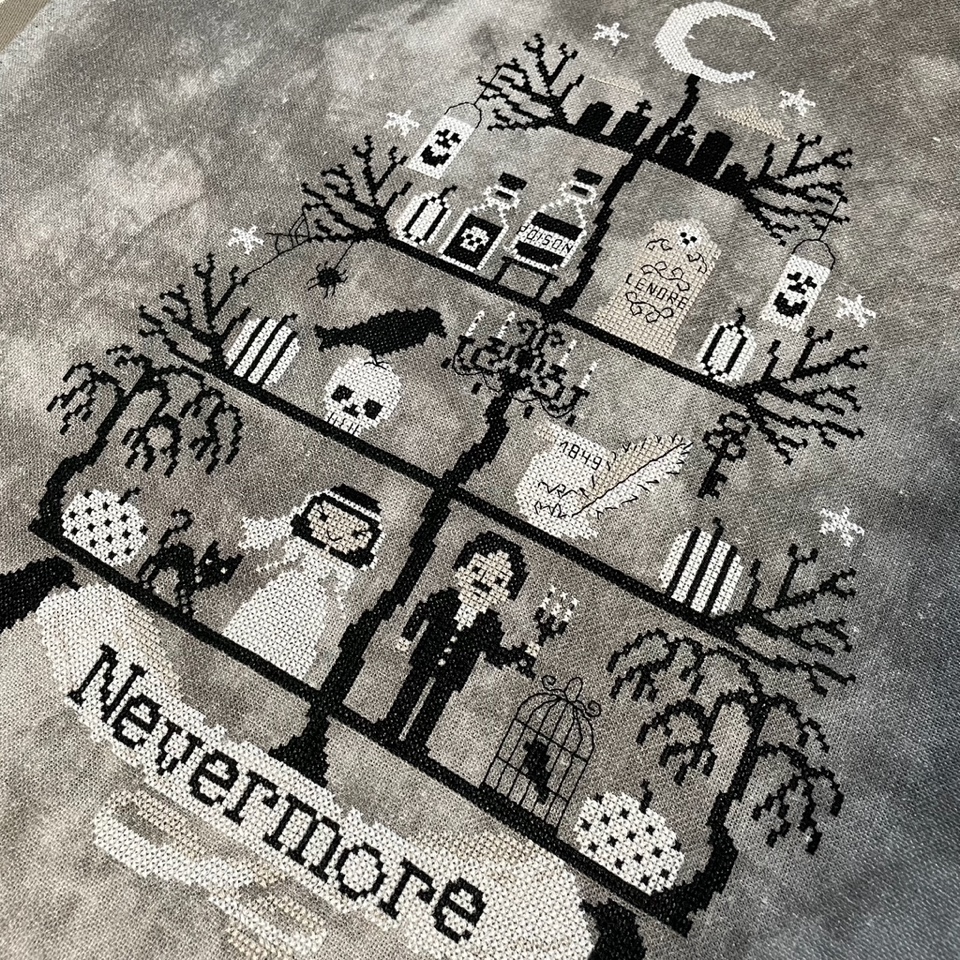 Boo-tiful Bunting
If you don't have time for a full wall hanging, creating some Halloween themed bunting is a great way to brighten up a room and get a spooky vibe. Buy some ready-made bunting to stitch onto or cut aida into triangles which can be stitched onto a ribbon. Each triangle of bunting could have its own design, such as black cats, pumpkins, witches on broomsticks, candy corn, bats, zombies, werewolves, skeletons, ghouls and ghosts. You could also spell out a message with one letter on each triangle, such as 'Happy Halloween' or 'Blessed Samhain'.
We get through plenty of red and white thread at the lead up to Christmas, pastels in the spring and bright colours in the summer, so Halloween is a nice excuse to use up some pretty orange thread and plenty of black to give it that spooky edge. Having a special occasion to stitch for doesn't have to be limited to birthdays, and it's always nice to know that you're making something which will come into use year after year. Halloween cross stitches can be fun and quirky as well as gory and gruesome, so pick a project that suits your Halloween vibe!